Common Windows Errors / Solutions

How to Disable v.90

In some cases, disabling the V.90 functionality for your modem will improve your connection. To disable v.90, you will need to enter an initialization string specific to your modem.

Note: Disabling v.90 will lower your connection speed to a maximum of 33.6 Kbps. While this speed is slower, it will provide a more stable connection versus an unstable connection at faster speeds.
---
Specific Init. Strings for common modems that may resolve this error:

Note: 0 = Zero.
| | |
| --- | --- |
| Modem | Initialization String |
| HSP 56 Micro Modem | n0s37=12 |
| Lucent Win Modem | -v90=0s38=0 |
| LT Win Modem | -v90=0s38=0 |
| Conexant Soft K56 PCI | +ms=v34 |
| Rockwell HCF 56K Data Fax PCI | +ms=v34 |
| US Robotics 56K Voice Win | s32=98 |
| Cirrus Logic Modem | AT+MS=V34B,1,300,0 |
| PCTel Modem | n0s37=12 |
If you have a modem that is not listed above, please visit the one of the following Web sites to find your modem's Initialization Strings:

http://www.modemhelp.net/stringlist.shtml
http://www.modemhelp.org/inits/
Once you have an initialization string for your modem, you can enter it in by following the steps below.
Windows 95/98/ME Users:
Click the Windows Start button and select Programs, then Accessories, then Communications.
Select Dial-Up Networking.
Click once on the NetZero connectoid to highlight it.
From the File menu, select Properties.
Click Configure.
Select the Connection tab.
Click the Advanced button in the lower right corner.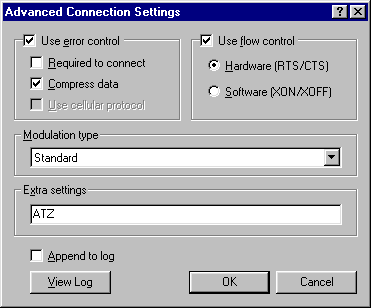 Type the initialization string in the Extra Settings textbox.
Click OK, then click OK again.
Close Dial-Up Networking and My Computer.
Retry the NetZero connection.
Windows XP users:
Click the Windows Start button and select Control Panel.
Double-click the Phone and Modem Options icon.
Click the Modems tab, select your modem, and select Properties.
Select the Advanced tab.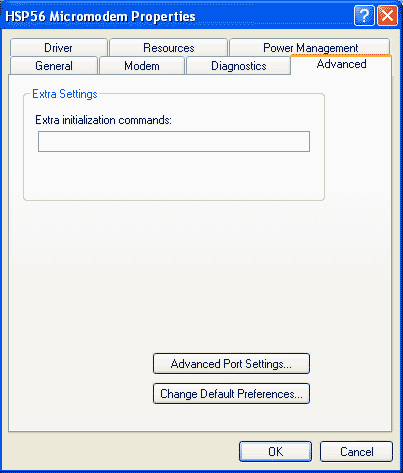 In the Extra Initialization Commands text box, type the init string.
Click OK.
Click OK again.
Click Close to exit.
---
Now viewing
support for
NetZero Free Service
Platform
Windows
OS
Windows98
Browser
CCBot 2.0