Common Macintosh Errors / Solutions

Error 650: Server not Responding

This page applies to Mac OS 9 users only.

Runtime error 650 may occur when your computer cannot establish a connection. Follow the steps below to resolve the issue.
---
A. Try a different access number
Your connection may have been dropped due to technical difficulties with the access number you are using. Try connecting to NetZero again. If the problem persists, try using another access number in your area. For instructions on how to change your access number, please click here.
Please check with your telephone company to confirm that under your calling plan the chosen access numbers will not result in additional charges. You are solely responsible for all telephone charges related to accessing our services and NetZero will not reimburse you for any such charges, including long distance or toll charges.
---
B. Verify your modem settings
If your modem is not configured correctly, NetZero will not function properly. To verify that your modem configuration is correct, please complete the following steps:
Go to the Apple Menu, select Control Panels and choose Modem.
In the Modem window, choose your modem from dropdown menu (Such as Apple Internal 56K Modem)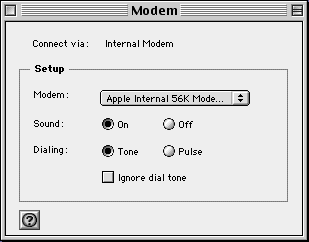 Change the Sound and Dialing preferences as needed.
Make sure the box next to Ignore dial tone is NOT checked.
Go to the File menu and select Quit. If you are asked to save your changes, click Yes.
---
D. Check network settings
Click the Apple menu and select Control Panel.
Click TCP/IP.
Click Connect via and select PPP.
Under Setup, click Configure and select Using PPP Server.
Ensure the Name server addr and Search domains fields are empty.
Click File and select Quit. If prompted to save changes, click Save.
---