Adjusting NetZero HiSpeed Acceleration Speed
Most of the time required to display a Web page consists of downloading graphics on that page to your computer. NetZero HiSpeed is able to significantly speed up these graphic downloads by compressing graphics. This lowers the file sizes of the images, making Web pages load faster.
You can adjust how fast you want pages to load by adjusting the level of graphic compression and/or number of colors displayed.
To adjust acceleration speed:
Click on the NetZero HiSpeed speedometer icon in the toolbar.
Select Settings.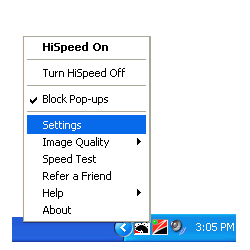 Adjust the slider on the Speed & Image Quality screen. The further the slider is to the right, the faster pages load. The further the slider is to the left, the better the image quality.
Viewing original images
If, at any time, you would prefer to see an original, uncompressed image on a Web page you visit using NetZero HiSpeed, right-click the image and select Display Image with Full Quality on the menu that appears. Please note that in Internet Explorer 5.0 and 5.5 browsers, this option may not work with all images.
You can also choose to display all of the images on a page without compression. To do this, right-click on any image and select Display All Images with Full Quality on the menu that appears. This option works with all images in all browsers.
---