Login Setting
After logging in you will be routed to the NetZero Message Center page providing direct access to your Email and Voicemail, including the various privacy settings associated with them. It also allows you to add new contacts or import existing contacts into your address book.
You can change this setting so the Inbox opens upon login. The following information shows how to switch the login page from the new Message Center Home to Inbox.
Click on Settings and select Email Features.
Click Login Setting under Preferences.
The Email Features: Login Setting screen will appear.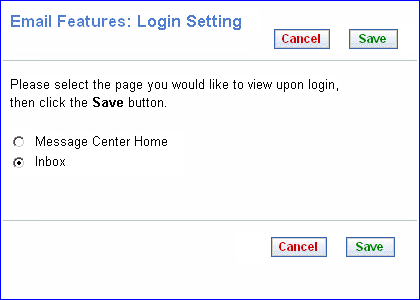 Select Inbox.
Click Save to save your changes, or Cancel to cancel your changes.
---
---