About NetZero Message Center
Note:If you're using NetZero's new Message Center, please
click here
.
Click here to access Message Center.
With Message Center, you can read and write your NetZero email from any Internet-connected computer in the world.
The latest version of Message Center now includes Junk Mail Settings, you can further customize your email experience by creating Block List and Platinum members can set up Sort & Delete. Platinum members also have the added bonus of extra storage space in their mailboxes, as well as the ability to check other POP accounts. Click here to upgrade your existing account and receive these additional features.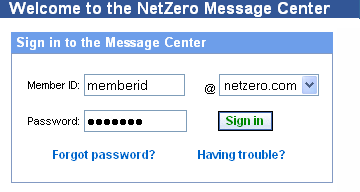 Quick and Easy
To get started, just click the Sign in button after you've entered your NetZero Member ID and password. Once you've logged in, you'll find your new email messages in your Inbox, a place to compose and send new messages, and an online address book.
Help - I'm New to Message Center
The most important thing to know is that there is only one NetZero email system, and two different ways to access it. You can always check your mail on your home computer using an email program (such as Outlook Express) in conjunction with your NetZero software. Alternatively, Message Center allows you to access your email when you're away from home. Whether you're at work, on vacation, or anywhere else with an Internet-connected computer, your email address is the same and your account is always accessible.
NetZero Message Center is offered as a convenience so that you can send and receive mail when you are away from home. You don't have to worry about losing or missing mail. All your mail goes to NetZero's central system, and it can be accessed at any time with either an email program connected to the NetZero software, or Message Center.
Here's more about Message Center:
There's no additional cost to use Message Center. The service is free.
You can use Message Center with either Internet Explorer or Netscape browsers.
All mail in the Trash folder will be regularly deleted.
Some Helpful Hints
All mails left in your Inbox at the end of an Message Center session will remain there until you check your mail with an email program and the NetZero software. At that point, all mails in your Inbox will be downloaded to your home computer and will no longer appear in your Message Center Inbox. Only new mail will appear in your Message Center Inbox.
---
---